K38 EUROPE
K38 EUROPE
K38 Europe is co-managed by Mr. Nicolas Denard. It you are interestd in hosting a course or attending a course please contact him at his email address listed below or contact the service provider direclty.
K38 Europe is comprised of service providers from the following areas:
1. K38 Italia
2. K38 UK
3. K38 Poland
---
K38 Europe es un afiliado de K38 International, y como tal, su único objetivo es el de transmitir una cultura de operación profesional usando una moto de agua, donde el compromiso, constancia, sacrificio y valor, son entre otros, los pilares que sustentan nuestra misión.
K38 Europe realiza cursos de entrenamientos en todo el archipiélago, teniendo su base operativa en la isla de Tenerife. Estos cursos están orientados tanto para organizaciones de rescate, socorristas, bomberos, fuerzas del orden como para civiles que sienten la necesidad de aprender los estándares profesionales de K38.
K38 Europe, también asesora en todo lo relacionado a la operativa en el mundo del rescate con moto de agua y brinda servicios de seguridad en el mar, teniendo experiencia en:
Surf de olas grandes - Triatlones - Campeonatos de surf - Campeonatos de windsurf - Eventos de natación en aguas abiertas - Eventos SUP - Carreras de embarcaciones - Eventos de Freeride - Programas Acuáticos y en seguridad acuática en rodajes.
Mr. Nicolas Denard is an adventurous traveler, born in Tenerife, the Canary Islands. He worked in the aviation industry for over a decade; traveling and living all over the world. Presently he lives in the Canary Islands with his wife and his two adorable daughters.
Since an early age he's been passionate about the ocean and enjoys a variety of ocean-going activities. Living on an island the relationship between and water becomes a way of life. He is an avid surfer and towsurfer, providing water safety coverage for sessions in the beautiful waves surrounding his homeland.
After several trips to Hawaii, Nicolas became aware of the vital importance of having a professionally trained rescue boat team for water safety. In 1992 he created along with his friend Manuel Gonzalez de León a water rescue team in the Canary Islands. They introduced the Rescue Water Craft (RWC) as a modern way of saving lives using these unique small power craft.
Nicolas completed his studies in Spain and France, and began working in the surf industry providing RWC water safety coverage
Nicolas understood the need for ongoing updates relating to the changes in boating safety practices and techniques and began investigating solutions. It was in the late 1990's when he met Shawn Alladio, the founder of K38, an international training company and service provider.
In 2001 Nicolas organized the first K38 training in the nation of Spain for lifesavers.
Nicolas has been part of K38 developing his instructor qualifications and boating safety outreach. In November of 2017 K38 Canary Islands was officially recognized along with K38 Canary Islands under Nicolas management.
In 2019 he is working hard to support expansion in the K38 Way of Training outreach throughout Europe and Latin America.
Please visit for more information
---
Mission
Programy szkoleniowe K38 ewoluowały od momentu powstania w 1989 roku. Organizacja działa pod kierownictwem założycielki Shawn Alladio z USA w wielu międzynarodo

wych filiach. Kadra profesjonalnych instruktorów K38 uczy jak bezpiecznie użytkować skutery wodne przez amatorów rekreacji oraz zawodowych ratowników w celu ratowania życia na wodzie.

K38 International kreuje normy i standardy użytkowania skuterów wodnych współpracując ściśle z organizacjami ratowniczymi, instytucjami zajmującymi się bezpieczeństwem na wodzie oraz agencjami rządowymi.

K38 Polska jest licencjonowanym partnerem K38 International na lata 2015-2018.
JAKUB FRIEDENBERGER
Jakub Friedenberger graduated from the Academy of Physical Education and Sport and completed his postgraduate studies forThe Main School of Fire Service. He began his career in rescue work as a Lifeguard on Gdynia's bathing waters.He also completed a Medical Rescue College program and worked as a paramedic in the ambulance service.
Jakub further developed his interest in Lifeguarding and modern tools by reaching out to Mr. Fabio Annigoni of K38 Italy. Fabio's training programs were instrumental in his professional development and this is where Jakub began his qualification training for Rescue Water Craft Operations. This training relationship raised the interest in the use of Rescue Water Craft in the Lifeguard Community and with colleagues in the field.
Currently Jakub is the squad commander at the State Fire Brigade Command in the city of Gdynia no 1, instructor lecturer of first aid and lifeguard instructor lecturer, K38 Poland instructor leader.
He is the author of the First Aid publication and auto rescue on iced water publication. He is happily married and a father and looks forward to training Poland's next generation of Rescue Water Craft Operators.
--
Pozdrawiam Serdecznie
Jakub Friedenberger
Jakub Friedenberger jest absolwentem Akadami Wychowania Fizycznego i Sportu w Gdańsku. Ukończył również podyplomowe studia w Szkole Głównej Służby Pożarniczej w Warszawie. Karierę ratowniczą rozpoczynał pracując jako ratownik wodny na gdyńskich plażach. Rozwijając swoje zainteresowania w ratownictwie wodnym trafił na Fabio Annigoni z K38 Włochy. Program treningowy oraz możliwości skutera ratowniczego jakie zaprezentowała Fabio, były punktem zwrotnym. Spotkanie to poskutkowało certyfikowanym szkoleniem K38 we Włoszech oraz kolejnymi dwoma wizytami w USA, gdzie poznał, uczył się i pracował z Shawn Alladio.
Obecnie Jakub jest pracownikiem Wydziału operacyjnego Komendy Miejskiej PSP w Gdyni, gdzie przeszedł po trzynastu i pół latach pracy w JRG 1 w Gdyni. Jest ratownikiem medycznym, instruktorem wykładowcą WOPR, instruktorem ratownictwa wodnego, instruktorem motorowodnym, liderem instruktorem K38 Poland. Z niecierpliwością oczekuje kolejnych generacji, nowych operatorów skuterów ratowniczych w Polsce.
Mr. Jakub Friedenberger is a graduate of the Academy of Physical Education and Sport in Gdansk. He also completed post-graduate studies at the Main School of Fire Service in Warsaw. He started his rescue career by working as a lifeguard on Gdynia's beaches. Developing his interests in lifeguarding he went to Fabio Annigoni from K38 Italy. The training program and possibilities of the RWC that Fabio presented were a turning point. The meeting resulted in a certified K38 training in Italy and another two visits to the US, where he met, learned and worked with Shawn Alladio.
Currently, Jakub is an employee of the Operational Department of the Municipal Headquarters of the State Fire Service in Gdynia, where he went after thirteen and a half years of work at Fire Brigade number 1 in Gdynia. He is a paramedic, lifeguard instructor, motorboat instructor, K38 Poland leader instructor. He is the author of the First Aid publications and auto rescue on iced water publication . Looks forward to next generations, new operators of RWC in Poland.
JAKUB WOZNIAK
Jakub Woźniak studiował na Uniwersytecie Humanistyczno Społecznym w Sopocie. Pracował w Young Digital Planet S.A. – polskim wydawnictwie edukacyjnym jako kierownik projektu. Następnie pracował jako specjalista do spraw konferencji i event'ów na stadionie Energa Gdańsk – jednym z najpopularniejszych w Polsce. W tym czasie odpowiedzialny był tam za organizację największych wydarzeń – koncertów, meczy, konferencji.
Jego kariera w ratownictwie wodnym rozpoczęła się prawie 20 lat temu na kursie młodszego ratownika. Od tego czasu niemal każdy sezon spędzał na plaży, pracując jako ratownik wodny. W 2009 roku w Rowach odbył szkolenie ratownictwa z użyciem skuterów wodnych zorganizowane przez WOPR. Od tego czasu pracuje na skuterach ratowniczych Polsce i Europie.
Aktualnie prowadzi kursy i szkolenia z pierwszej pomocy, ratownictwa wodnego – jest instruktorem BLS AED, instruktorem ratownictwa wodnego oraz instruktorem K38 Poland.
Od grudnia jest ojcem wspaniałej córki. W wolnym czasie spaceruje ze swoim psem Snoopy.
Mr. Jakub Woźniak was studying at SWPS University of Social Science and Humanities in Sopot. He was also working in Young Digital Planet S.A. – polish educational publisher – as project manager. Later he became a conference and event specialist at Energa Gdansk Stadium – one of the most popular places in Poland. During that time Jakub was responsible of the organization of the biggest events there – concerts, matches, conferences. His lifeguard career started almost twenty years ago during junior lifeguard course. Since then almost every season he is spending on the beach working in water rescue service. Working with rescue water craft started in 2009 on the course in Rowy that was organized by Voluntary Water Rescue Service. From that time Jakub is working with RWC in Poland and Europe. Currently Jakub is providing first aid, lifeguarding courses and trainings – he is lifeguard instructor, BLS AED instructor and K38 Poland Instructor. From the end of December he is a happy father of lovely daughter. In his free time he takes his dog, Snoopy, for a walk.
MICHAL MATEJOWSKI
Michał Matejowski jest absolwentem Akademii Wychowania Fizycznego i Sportu w Gdańsku. Pracował jako płetwonurek oraz ratownik wodny na wodach zatoki Gdańskiej. Od 1998 roku był zaangażowany w organizację Mistrzostw Polski skuterów Wodnych. Nadal pracuje jako sędzia – ratownik w zespołach zabezpieczenia wyścigów skuterów wodnych oraz innych imprez na wodzie. Jest sternikiem, instruktorem motorowodnym, sędzią motorowodnym, ratownikiem wodnym oraz instruktorem pływania.
Pierwszy raz techniki K38 zobaczył na Mistrzostwach Europy Skuterów Wodnych w Gdyni, podczas spotkania z Fabio Annigoni z K38 Italia. Zainspirowało go to do dalszego poznawania i doskonalenia technik z użyciem RWC oraz uzupełniania szkoleń na ten temat. Aktualnie pracuje w Gdyńskim Centrum Sportu w Marinie Gdynia.
Mr. Michał graduated the Academy of Physical Education and Sport. He worked as a commercial diver and lifeguard in the waters of the Gulf of Gdansk. He was also involved in the organization of the Polish Jet-ski Races Championships since 1998 and he still works as a water safety team at motorboat and water sports events. He is a boat skipper and a motorboat instructor, a racing referee, and a lifeguard and swimming instructor.
K38 rescue techniques he was shown by Fabio Annigoni when they met during the European jet-ski championships. That inspired him to start to get to know RWC techniques and procedures and completions of trainings on this topic.
He is currently employed at the Gdynia Sports Center and works in the yacht marina in Gdynia.
---
K38 ITALIA
"Water Safety Is Not A Game"
K38 Italia Water Safety Rescue School, providing Personal Watercraft or Rescue Watercraft (PWC/RWC) Rescue Training .
K38 Italia's courses are aimed at Rescue Professionals who use Aquabike (term used in Italy to describe the vessel type) such as Fire Dept and Rescue Services, Lifeguards, Harbor Patrol, Law Enforcement and Military. Course profiles are for the following environments: Open Ocean, Surf, Lake, Swift Water and Flood event situations.
This type of training is unique in that operating one of these vessels is considered an 'active ride': extremely physically demanding. Students must be in excellent physical condition and be competent swimmers with good knowledge of water dynamics. All participants will be required to sign waivers and provide emergency contact sheets. Every student must wear thermal protection for site location and time of year.
Aquabike (RWC/PWC) training is essential for safe, competent operation for both the recreational and professional user.
We also can manage professional and pleasure water events Worldwide.
We speak Italian, English, Spanish, Russian and French languages.
Currently we provide services for the following:
Aquabike/RWC Rescue Operator (flat and rough water)

Course Marshal Training (Jet Ski and Powerboat competitions)

Special training to manage Surf, Windsurf, Kitesurf, nautical events and races

Pleasure Navigation Training

Water Safety Management

Developer of custom programs

Provider of Beach Patrol Service

Yacht Industry boating safety
Contact Fabio through his direct Website:
Contact Fabio: Info@K38italia.it
___________________________________________________________________
______________________________________________________________________________
Fabio Annigoni, fondatore e istruttore di K38 Italia, proviene da una tradizione alimentare che dal 1982 al 2005 lo vede come il creatore di 3 nuovi negozi di pasta fresca a Genova.
Fortemente appassionato di mare e sport acquatici, ha iniziato la sua carriera professionale con barche a vela, realizzando regate internazionali, un modo meraviglioso per visitare posti bellissimi e persone simpatiche.
La vera svolta arriva quando ha l'opportunità di provare una moto d'acqua, un veicolo che unisce la sua passione per il mare con la potenza e la velocità. I buoni risultati ottenuti nel campo sportivo di Motonautico hanno fatto sì che nel 1999 si recasse in Arizona per le finali del Campionato Mondiale di moto d'acqua, dove per la prima volta è stato in grado di vedere e testare quello che sarebbe poi diventato il suo compito principale, l'operatore di soccorso con Aquabike (moto d'acqua).
Dato che all'epoca non esistevano scuole di questo genere in Italia o in Europa, Fabio andò negli Stati Uniti diverse volte alla K38, dove, attraverso una serie di aggiornamenti formativi, divenni Istruttore Nazionale e poi Internazionale. L'importanza del progetto unita alla passione per i viaggi, lo ha portato a lasciare le attività che richiedevano la sua presenza statica, a dedicarsi a tempo pieno a questo compito così importante.
Da allora Fabio Annigoni è stato responsabile della sicurezza idrica delle competizioni nazionali e internazionali di squadre d'acqua e formatore di diversi Marescialli di gara in Europa, Russia e Ucraina. La sua esperienza è stata anche utilizzata dalla Guardia Costiera Italiana per creare le prime leggi per gestire l'uso degli scooter acquatici di soccorso qui in Italia. Ad oggi, Fabio Annigoni continua la sua attività formando soccorritori e fornendo assistenza a numerosi eventi nautici. Sebbene il suo quartier generale sia a Genova, il suo lavoro spesso lo porta in giro per il mondo.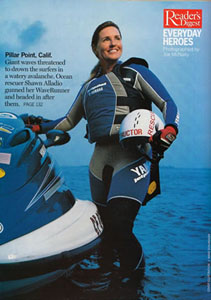 Nel 1999 il pilota genovese di moto d'acqua Fabio Annigoni, si reco' a Lake Havasu City (Arizona-USA) per assistere alla finale di Campionato del mondo di moto d'acqua. Noto' che a fare assistenza nel circuito c'era una moto d'acqua con una speciale barella fissata posteriormente. Si reco' subito a chiedere informazioni riguardo questo speciale mezzo di soccorso a Shawn Alladio istruttrice e fondatrice del K38, una societa' di salvataggio che da anni opera negli USA.
Shawn gli spiego' che questo sistema era usato con successo anche in situazioni di pericolo estremo, sia in mareggiate, nei fiumi in piena e nei laghi di tutti gli USA. Annigoni, gia' in possesso della licenza di pilota, venne allora informato che, visto il suo interesse in questo campo, avrebbe potuto prendere parte ad un corso di salvataggio che da li' a poco si sarebbe tenuto ad Half Moon Bay (California). Qui pote' constatare l'efficienza di questo mezzo di soccorso (Rescue Boat: moto d'acqua con barella) con onde di diversi metri!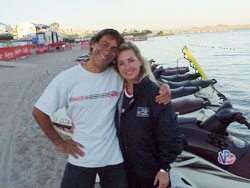 Tornato in Italia entusiasta, si rese conto della necessita' di introdurre questo sistema anche in Italia. Da quel momento infatti diede inizio alla promozione della "moto d'acqua da salvamento" presentandola, con grande successo, in diverse Fiere e saloni nautici (Rimini, Carrara, Genova) con l'appoggio della Federazione Italiana Motonautica. Ad Aprile 2000, prese parte ad un Summit mondiale del salvataggio in acqua svoltosi a Las Vegas, dove l'istruttrice e ormai amica Shawn Alladio, lo istrui' anche in fiume e in lago, avviandolo alla qualifica di Istruttore. Dopo diversi stage formativi, dal 2004 Fabio Annigoni e' istruttore della K38 USA e dal 2006 autorizzato come formatore per istruttori e operatori per la K38 International.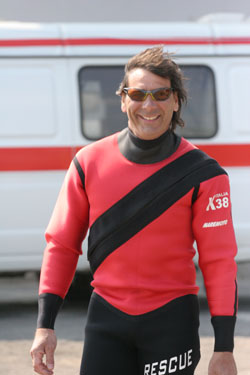 L'aquabike da salvamento a volte, fa apparire mezzi di soccorso quali gommoni, lancette o pattini, obsoleti ed inadeguati nei confronti di una natura sempre piu' violenta e difficilmente controllabile. Un gommone o una lancetta, poco possono nei confronti di correnti forti o onde di diversi metri, che impossibilitano gli stessi ad un uscita e un rientro in sicurezza. Dal canto suo l'elicottero, utilizzato per i recuperi piu' estremi, non sempre e' disponibile, e quando lo e', rimane comunque un sistema di salvataggio che implica difficolta' operative e ingenti costi. Naturalmente elemento essenziale per l'utilizzo delle aquabike nel salvamento e' la formazione specifica degli operatori, che si troveranno a condurre un mezzo totalmente differente dalla normale moto d'acqua, rendendo inadeguata a questo scopo particolare la normale patente nautica fino ad ora richiesta di legge.
Bisogna paragonare i mezzi di soccorso ad una cassetta degli attrezzi. Ogni attrezzo ha la sua funzione specifica: questo deve essere anche per i mezzi di salvataggio. Maggiore e' la scelta degli attrezzi, piu' mirata sara' la soluzione al problema. La moto d'acqua non e' la soluzione per tutto, ma e' sicuramente un tassello di rilievo nel mosaico del salvamento.
---
Ben Granata has been working with K38 International since 2006. Having worked as a beach lifeguard, at a UK surf publication as a photographer/journalist and in the adventure activities industry Ben has developed a love and healthy respect for the ocean by working and playing in her.
Ben has worked as a Swift Water Instructor delivering training to various fire brigades and became a K38 Swiftwater Instructor in 2008. Since 2009 Ben has worked closely with Her Majesty's Coast Guard developing a RWC program with the team at Arnside Cumbria.
2009 was also pivotal in Bens professional development, the passing of racer Cesare Vismara at the World Finals held at lake Havasu spurred Ben to further his medical knowledge and capability by training with Ronin South Africa and beginning work with South West Ambulance Service. As K38 UK Ben has trained various Emergency Service Personnel the 'K38 Way' whilst providing RWC Safety cover for various events in the UK and Abroad.
One of the highlights of which was managing the team covering the third leg of the Red Bull Storm Chase. Alongside K38 Ben delivers recreational PWC training and provides safety boats, Lifeguards, medical cover, ATV training and support as well as film safety cover.
Ben@pwctraining.com
---