K38 ITALY
K38 ITALIA
"Water Safety Is Not A Game"
K38 Italia Water Safety Rescue School, providing Personal Watercraft or Rescue Watercraft (PWC/RWC) Rescue Training .
K38 Italia's courses are aimed at Rescue Professionals who use Aquabike (term used in Italy to describe the vessel type) such as Fire Dept and Rescue Services, Lifeguards, Harbor Patrol, Law Enforcement and Military. Course profiles are for the following environments: Open Ocean, Surf, Lake, Swift Water and Flood event situations.
This type of training is unique in that operating one of these vessels is considered an 'active ride': extremely physically demanding. Students must be in excellent physical condition and be competent swimmers with good knowledge of water dynamics. All participants will be required to sign waivers and provide emergency contact sheets. Every student must wear thermal protection for site location and time of year.
Aquabike (RWC/PWC) training is essential for safe, competent operation for both the recreational and professional user.
We also can manage professional and pleasure water events Worldwide.
We speak Italian, English, Spanish, Russian and French languages.
Currently we provide services for the following:
Aquabike/RWC Rescue Operator (flat and rough water)

Course Marshal Training (Jet Ski and Powerboat competitions)

Special training to manage Surf, Windsurf, Kitesurf, nautical events and races

Pleasure Navigation Training

Water Safety Management

Developer of custom programs

Provider of Beach Patrol Service

Yacht Industry boating safety
Contact Fabio through his direct Website:
Contact Fabio: Info@K38italia.it
___________________________________________________________________
FABIO ANNIGONI BIO
Fabio Annigoni, founder and instructor of K38 Italia in his native Italy created a food business from 1982 to 2005. Mr. Annigoni is the founder of 3 fresh pasta shops located in Genoa, Italy.
Fabio is strongly passionate about the sea and water sports. He began his professional career with sailing boats, competing in international regattas, which provided a wonderful way to visit beautiful places and meet nice people.
His boating safety breakthrough began when he had the opportunity to test a Personal Water Craft (Aquabike) a vehicle that combines his passion for the sea with complimentary power and speed.
Fabio soon began to compete with Aquabikes. He competed in the Powerboat sports aggressively and in 1999 Fabio traveled to America to attend the World Finals of PWC racing as a competitor representing Italy. For the first time he was able to observe and test what would later become his main occupation; a Rescue Boat Operator for Aquabikes (PWC).
Since there were no schools of this kind in Italy nor in Europe at that time, Fabio went to the USA soon after the World Finals. He began attending a variety of K38 training programs. He began to build and focus upon his instructor qualifications. He soon achieved a masters level qualification for instructor status.
After a few years he became an Italian National and then and International Rescue Water Craft (RWC) Instructor and the propritor of K38 Italia. Fabio was the first person to introduce professional standards and Rescue Water Craft training to both Europe and Asia.
Fabio Annigoni has been responsible for the water safety of National and International Personal Water Craft competitions and is the lead trainer of several prestigous Course Marshals Programs throughout Europe, Russia and the Ukraine.
His experience was also employed by the Italian Coast Guard to create the first regulations to manage the use of Rescue Water Craft for the Italian Lifeguard
To date, Fabio Annigoni continues his educational outreach by training Rescue Water Craft Operators worldwide and providing assistance to numerous nautical events under the K38 banner.
Although his headquarters are in Genoa, his work often takes him around the world. He has been instrumental in effecting positive change in the K38 Way of Training and assisting in drowning prevention, accident prevention and training the highest level of boat operators in our community.
______________________________________________________________________________
Fabio Annigoni, fondatore e istruttore di K38 Italia, proviene da una tradizione alimentare che dal 1982 al 2005 lo vede come il creatore di 3 nuovi negozi di pasta fresca a Genova.
Fortemente appassionato di mare e sport acquatici, ha iniziato la sua carriera professionale con barche a vela, realizzando regate internazionali, un modo meraviglioso per visitare posti bellissimi e persone simpatiche.
La vera svolta arriva quando ha l'opportunità di provare una moto d'acqua, un veicolo che unisce la sua passione per il mare con la potenza e la velocità. I buoni risultati ottenuti nel campo sportivo di Motonautico hanno fatto sì che nel 1999 si recasse in Arizona per le finali del Campionato Mondiale di moto d'acqua, dove per la prima volta è stato in grado di vedere e testare quello che sarebbe poi diventato il suo compito principale, l'operatore di soccorso con Aquabike (moto d'acqua).
Dato che all'epoca non esistevano scuole di questo genere in Italia o in Europa, Fabio andò negli Stati Uniti diverse volte alla K38, dove, attraverso una serie di aggiornamenti formativi, divenni Istruttore Nazionale e poi Internazionale. L'importanza del progetto unita alla passione per i viaggi, lo ha portato a lasciare le attività che richiedevano la sua presenza statica, a dedicarsi a tempo pieno a questo compito così importante.
Da allora Fabio Annigoni è stato responsabile della sicurezza idrica delle competizioni nazionali e internazionali di squadre d'acqua e formatore di diversi Marescialli di gara in Europa, Russia e Ucraina. La sua esperienza è stata anche utilizzata dalla Guardia Costiera Italiana per creare le prime leggi per gestire l'uso degli scooter acquatici di soccorso qui in Italia. Ad oggi, Fabio Annigoni continua la sua attività formando soccorritori e fornendo assistenza a numerosi eventi nautici. Sebbene il suo quartier generale sia a Genova, il suo lavoro spesso lo porta in giro per il mondo.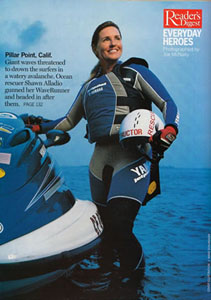 Nel 1999 il pilota genovese di moto d'acqua Fabio Annigoni, si reco' a Lake Havasu City (Arizona-USA) per assistere alla finale di Campionato del mondo di moto d'acqua. Noto' che a fare assistenza nel circuito c'era una moto d'acqua con una speciale barella fissata posteriormente. Si reco' subito a chiedere informazioni riguardo questo speciale mezzo di soccorso a Shawn Alladio istruttrice e fondatrice del K38, una societa' di salvataggio che da anni opera negli USA.
Shawn gli spiego' che questo sistema era usato con successo anche in situazioni di pericolo estremo, sia in mareggiate, nei fiumi in piena e nei laghi di tutti gli USA. Annigoni, gia' in possesso della licenza di pilota, venne allora informato che, visto il suo interesse in questo campo, avrebbe potuto prendere parte ad un corso di salvataggio che da li' a poco si sarebbe tenuto ad Half Moon Bay (California). Qui pote' constatare l'efficienza di questo mezzo di soccorso (Rescue Boat: moto d'acqua con barella) con onde di diversi metri!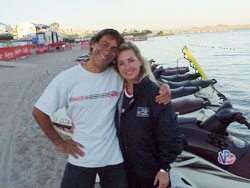 Tornato in Italia entusiasta, si rese conto della necessita' di introdurre questo sistema anche in Italia. Da quel momento infatti diede inizio alla promozione della "moto d'acqua da salvamento" presentandola, con grande successo, in diverse Fiere e saloni nautici (Rimini, Carrara, Genova) con l'appoggio della Federazione Italiana Motonautica. Ad Aprile 2000, prese parte ad un Summit mondiale del salvataggio in acqua svoltosi a Las Vegas, dove l'istruttrice e ormai amica Shawn Alladio, lo istrui' anche in fiume e in lago, avviandolo alla qualifica di Istruttore. Dopo diversi stage formativi, dal 2004 Fabio Annigoni e' istruttore della K38 USA e dal 2006 autorizzato come formatore per istruttori e operatori per la K38 International.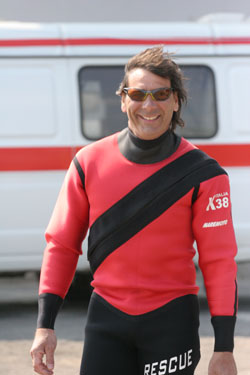 L'aquabike da salvamento a volte, fa apparire mezzi di soccorso quali gommoni, lancette o pattini, obsoleti ed inadeguati nei confronti di una natura sempre piu' violenta e difficilmente controllabile. Un gommone o una lancetta, poco possono nei confronti di correnti forti o onde di diversi metri, che impossibilitano gli stessi ad un uscita e un rientro in sicurezza. Dal canto suo l'elicottero, utilizzato per i recuperi piu' estremi, non sempre e' disponibile, e quando lo e', rimane comunque un sistema di salvataggio che implica difficolta' operative e ingenti costi. Naturalmente elemento essenziale per l'utilizzo delle aquabike nel salvamento e' la formazione specifica degli operatori, che si troveranno a condurre un mezzo totalmente differente dalla normale moto d'acqua, rendendo inadeguata a questo scopo particolare la normale patente nautica fino ad ora richiesta di legge.
Bisogna paragonare i mezzi di soccorso ad una cassetta degli attrezzi. Ogni attrezzo ha la sua funzione specifica: questo deve essere anche per i mezzi di salvataggio. Maggiore e' la scelta degli attrezzi, piu' mirata sara' la soluzione al problema. La moto d'acqua non e' la soluzione per tutto, ma e' sicuramente un tassello di rilievo nel mosaico del salvamento.